Navigating the last two years has been a masterclass in overcoming challenges. At long last, 2022 promises what might be the light at the end of the tunnel. And with the light comes the return of travel.
If you're after the perfect holiday to satiate your growing sense of wanderlust, you're not alone. According to one report by hospitality group Accor, nearly four out of five Brits plan to holiday this year.
In other words, a large majority of us are more ready than ever to lock in a holiday this spring and summer.
But how will travel be different this year? Has the pandemic influenced how we plan to travel in 2022? We're exploring six travel trends that are taking shape this year and six of the hottest holiday destinations you should have on your radar.
Read more: Packing list hacks for every type of holiday
Travel trends of 2022
With our sights set on summer holidays, wanderlust has gotten the better of most of us after two hard years of staying relatively in place. This year, there are seven major travel trends taking root:
Long-haul, once-in-a-lifetime trips. Focusing on the here and now, this year travellers are investing — as much as 39 percent more — in the trip they've always dreamed of taking. And they aren't skimping on time away, either.
Seeking out new destinations. According to a study by Tripadvisor and Ipsos MORI, 70 percent of Brits want to 'see new places' with 38 percent looking to visit somewhere they've never been.
Combining work and pleasure. Since many of us are now working from home, there's more want than ever to travel to meet colleagues in other cities and countries face-to-face.
The rise of the friendcation. Having been apart for too long, friends are meeting up to make memories together while on holiday. This unique holiday means exploring new places with those you love most.
With restrictions around Covid, international holidays are back in the picture so make sure your passport is up to date!
But UK travellers are still seeing the beauty in their own back garden with 73 percent of Brits planning trips within the UK.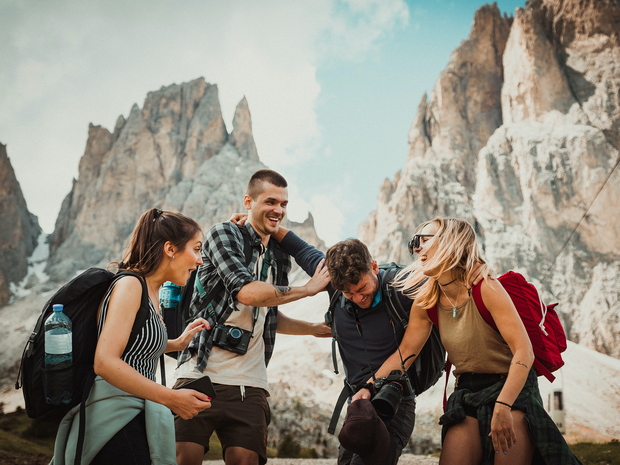 Holiday destinations topping the charts this spring and summer
Book those days off and pack your bags, these are the must-visit holiday destinations of the year.
Miami, one of Florida's many easy-to-get to destinations when you fly into Orlando.
Where to visit
Walt Disney World and Universal Studios (Orlando), the quintessential family holiday
St. Augustine, nicknamed the Ancient City, for those who want sun-soaked history
Miami, to hit the beach all day then set out for a night full of neon
Everglades National Park, for sights unlike any you've seen before
Destin, for pristine beaches
From white sand beaches to neon cities to unforgettable family escapes, Florida has a lot to offer. Dubbed the Sunshine State, it's a gem of a getaway spot for those looking for a new experience that's soaked in sunshine.
Getting there is easy, too. A non-stop TUI Airways flight from Gatwick lands you in Orlando from which any number of Florida destinations can be reached.
Read more: How to pack a suitcase like an expert
The Great Pyramids in Cairo. Unspalh / Rosario Janza
Where to visit
Cairo, Egypt's vibrant capital, home to the Great Pyramids and, later this year, the all-new Grand Egyptian Museum
Masa Alam, a scuba diver's paradise on the banks of the Red Sea
Compared to an open-air museum, Luxor is a treasure trove of artefacts and the site of the ancient city of Thebes
Hurghada, a resort-style holiday spot that's near Giftun Island
Few countries boast the same combination of stunning landscapes and incredible history. This year promises to be a blockbuster year for the country as well, so if you need a sign to finally book tickets, this is it.
Marking 100 years of independence and the 100th anniversary of the discovery of Tutankhamun's tomb, there is plenty to experience.
Gas Street Basin in Birmingham. Photo: Unsplash / Gabriel McCallin
Where to visit
Birmingham Museum & Art Gallery for a healthy dose of culture
One of the city's Michelin Star restaurants
Gas Street Basin, for a stroll around cafes and bars
The Jewellery Quarter is also home to Coffin Works, a unique museum that's the latest must-see
Cadbury World, just a short drive from the city
If a city break that's close to home is your idea of an escape, Birmingham is not to be missed this year. Not only is it increasingly becoming one of the best holiday destinations for foodies, but it's also the host of the 2022 Commonwealth Games.
Read more: Staycation sorted: The best local holiday destinations in the UK
Mallorca, Spain. Photo: Unsplash / Alessa Ciraulo
Where to visit
Mallorca, the stunning Balearic Island escape with adventures fit for every kind of traveller
Tenerife, a resort-centric Canary Island that's ideal for sun-seekers
Marbella, for a seaside city retreat
Menorca, another Balearic Island with sprawling beaches fit for more laid-back summer holidays
For the well-seasoned travelling Brit, Spain is no new destination. That's perhaps why it's expected to be a major holiday spot this spring and summer. No matter where you go, you're almost guaranteed lush landscapes, tonnes of sun, great food and lots of adventure. Whether you're friendcationing or gearing up for a long-overdue family holiday, Spain is a welcome getaway.
Balos Beach on the island of Crete. Photo: Unsplash / Marina T
Where to visit
Crete, an island made for those who like adventure after adventure
Halkidhiki, for secluded cove beaches with calm turquoise waters and golden sands
Rhodes, for island hopping and sightseeing
Samos, something of the up-and-coming Greek island
During the summer of 2021, Greece took its spot once again as one of the must-visit holiday destinations after opening its doors to tourists. This spring and summer, we're seeing more of the same and it's no surprise.
From relatively quick history-packed retreats to all-out, once-in-a-lifetime resort holidays, Greece fits the bill for any number of vacations.
Jet to the Caribbean Island country Jamaica to fully embrace what's lovingly referred to as 'Island Time.' In other words, if relaxation is imperative to your next vacation, Jamaica is the answer.
In summer, Kingston will host the Jamaica Carnival (Bacchanal) while festivities will punctuate the year to celebrate Jamaica's 60th year of independence.
Last call: Our final thoughts
If we're honest, we'd be hard pressed to tell you which holiday destination should top your travel list this year. Birmingham and Spain hold promise for those wanting to stay closer to home or enticed by the notion of a friendcation.
Meanwhile, whether it be Jamaica, Florida, Greece or Egypt, there are plenty of new, exciting places to explore.
One travel trend that we completely back this year is the once-in-a-lifetime holiday. But even if you only get away for a little while, we're willing to bet that most any trips taken this year will be unforgettable.
---
The information presented above is accurate as of 30/03/2022. We are not responsible for any changes to the prices. The 'Best Buys featured' badge indicates sponsored content, and we may earn a commission when you make a purchase.
Prices of holiday packages vary depending on date, number of travellers, destination and more.